This is mostly to remind me of what is needed to get a Residency Certificate. The certificate is needed when purchasing motorized vehicles, or when getting a driving license. In the case of this entry, I'm going to be documenting buying a scooter in my own name rather than taking the easy way of listing the vehicle in my Thai partner's name.
1) Go to Immigration, Soi 5, Jomtien and apply for a RC. I needed to fill out the application, have three photos (one for application, one for each RC requested. I'm getting two.) Also needed is a copy of my lease, or other documentation to prove my address, and copies of my passport information page, current visa page, and return card. I needed to have my original passport with me too, not just the copies. Each RC is 200 baht, and are available to be picked up the following day.
2) Go to Jomtien again to pick up the completed certificates.
3) Decide on the bike.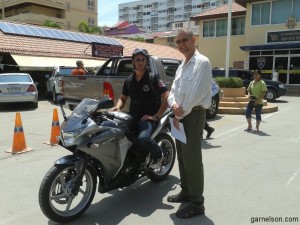 For a while now, I've been debating about a Honda PCX150 or a Honda CBR250; scooter vs general purpose street bike.  When I was at Immigration picking up my RC, I was able to talk with a guy who owns a  new CBR. He said 'buy the PCX'.
As "cool" as the CBR looks, if I think with the big head, it makes much more sense go with the PCX. The PCX has far more storage for things you want to carry. The PCX is a very comfortable bike. The PCX has a more upright riding position, so less pressure on the wrists when riding. Now, if I rode more in the countryside, the CBR would come into it's own, but I stick pretty close to the city, so my riding is more of an in town commuter. After talking with the guy who has the CBR, I'm going to go for the PCX.
4) Buy the bike.
I've actually purchased two motorbikes. I bought a new Honda PCX150 from a Honda dealer at 3rd Road and Pattaya Tai, and bought a used Honda Click-i from my friend Mark at Kessaya Motorbike Rental. The PCX was 73,500 baht but by the time taxes, licence, insurance, and fees were added in, it was 80,000 baht. All the paperwork was handled at the Honda dealer. The PCX will be in my name.
For a used bike, the Honda dealer was also able to process all the paperwork. I did not need to go to the Land Transport Office or any other agency. The Click-i from Mark was 25,000 baht, and the dealer charged 1,200 baht to do the transfer, taxes, license, and insurance. The used bike has a bit over 13,000 kilometers on it and is a 2009 model. The bike was licensed to a Thai national, and I was able to transfer the title over to myself.