Where are we?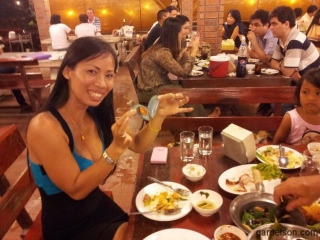 Last night Bua and I went to visit our friends Jean and Mon in Jomtien. Jean is another volunteer at the school, who I met during last term. Right now, he's splitting his time between France and Thailand–summer in France, winter in Thailand.
We got to Jean's rented condo at around 6 pm, well before the evening rain storm. Jean owns a condo in the central portion of Pattaya, but he's renting a studio with an awesome view of the bay out in Jomtien. I'd love to see the view sometime when it is sunny, I think it would be amazing.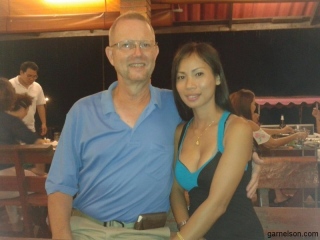 After some catching up and socializing, we set off for 'the seafood restaurant'. I still don't know the name of it, but there is a huge statue of a crab out in front of it. With the sky getting ready to open up we were fortunate enough to get an inside table after a short wait.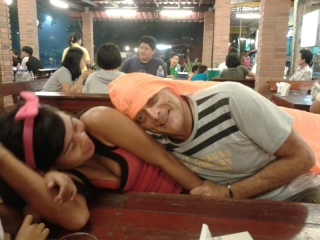 The food at 'the seafood restaurant' is great, and not that expensive. We filled the table with selections, and the total was only 1400 baht for four plus one child. (about $46.00 USD) We had a hot and sour seafood (shrimp, squid, fish, etc) soup, stir fried seafood with glass noodles, steamed mussels, oysters on the half shell, gigantic prawns, grilled squid, curry crab, and some other dishes I can't place on the other side of the table.
We ended up eating through two separate rain squalls. By the time we finished, the roads were still wet, but it was no longer raining.
To get to 'the seafood restaurant' go out to Beach Road in Jomtien, and head south. The Soi numbers will be increasing. About Soi 15 or 16, the road will narrow. Keep going down Beach Road. Maybe around Soi 22 (at a guess) the paved road will turn into a dirt road. You are almost there. Look for a giant crab on the left side of the road. That's the restaurant.