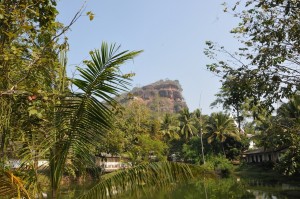 Back on the 29th of December, we took a trip to Wat Phu Thok (Wat Jetiyakhiri) maybe four or five hours to the northeast of the city of Udon Thani. Bua, Pop, and I were visiting some old friends of ours from Pattaya who were staying Si Wali for the holidays. Wat Phu Thok is a good size mountain for a predominantly flat farm plain. Visually, it's identifiable for quite a ways away.
Wat Phu Thok was, and still is, a monks retreat. It's a bit easier to access now with the stairs and pathways, but it's still a good trek up the sides of it.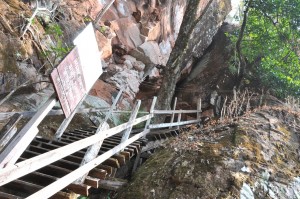 Fortunately, there are benches for rest stops along the trails. Some of the stairways are reasonable, and some seem nearly vertical. Thankfully, there are a couple of alternate paths going up, so the mountain goats can follow their inclinations, and those of us not quite so athletic can take a more reasonable climb — sometimes.
The upper levels have paths that circle the mountain. Parts of the walkways, a couple of people could walk abreast, and other areas, you almost have to lean out over the void to make your way around outcroppings. Our friend took one of the higher level tracks around the mountain. He took his jaunt alone though, since none of the rest of us felt all that comfortable joining him.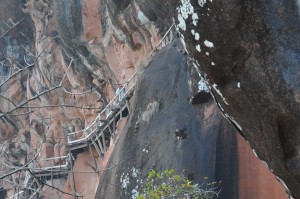 If you look closely, you can see him up on the path. In case you are wondering, that is a wooden walkway anchored in sandstone, of unknown age. As and engineering feat, it's terrific. As a walkway, parts of it border on terrifying.
All in all, it was a fun family trip, and well worth seeing. There is so much of the local area still left to discover.