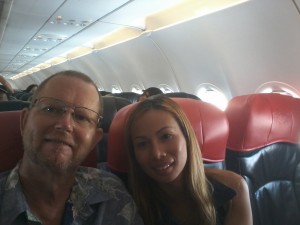 I've been very lazy about writing lately. Around May 20th, we set off for our first visit to Singapore. It was my first visit to the country, and Bua's first visit anywhere outside of Thailand. AirAsia had what appeared to be a good deal on flights so off we went.
Because of the timing of the flights, we ended up needing to spend one night in Bangkok. May 20th we flew from Udon Thani into the old Bangkok airport. Most of the domestic carriers operate out of Don Mueang Airport. One of our frequent flier friends suggested staying at the Amari Airport Inn which was a great idea, if only for simplicity. The Amari is connected to the airport via an overhead walkway, so it is very easy to get to, without needing to fight with traffic. And while it's quite the high end hotel (at least to us), if you happen to have your Thai speaking partner with a Thai National ID card book the reservations, you'll be able to get a better price than anyone using English to book a room. The hotel is quite nice, and the bed was one of the most comfortable I've slept on in a long time.
In the morning, after a stop at a full breakfast buffet, we walked back to the airport and off to our gate to wait for the short flight to Singapore.
Our one minor mistake negotiating Singapore Immigration was not having return flight information on our person when talking with the security personnel. They seem to be fine with letting tourists into their country to visit, but want to make sure they are going to be leaving their country too. As a Thai, Bua got a 30 day stamp on arrival, and I got a 90 day stamp on arrival. Once in the airport, we bought a local telephone SIM card, with a data plan, and changed over some currency for the local variety. Next task, was meeting our friend Will at his office in town. In with keeping things simple, we grabbed a cab for about $20 and we were on our way.
As an aside, if we do this again, one of the things I'd do differently, beside carrying a printout of our flights, would be to buy the Singapore Transit Tourist Pass. It's $30 for three days, and allows you to ride on any Transit train or bus anywhere they go, and as often as you like. Public transportation in Singapore is outstanding, and the Transit pass made it simple to get to where we wanted to go. And we actually did get transit passes later, I just wished I'd have known about them earlier and gotten them earlier. You can buy one trip cards, but if you're going to be looking around, they can be both expensive and time consuming to get.
One of the things that was great about choosing Singapore was that our friends Will and Kelly offered the use of a spare bedroom in their apartment while we were visiting. When the flight was booked, they were still living in Viet Nam, so it made for a happy coincidence when they moved to Singapore. Will and Kelly have a nice two bedroom apartment, just off a transit stop, in Little India. Not having seen them since they were living in the US, it was wonderful to be able to catch up a bit. Unfortunately, as the timing worked out, while we were in Singapore for vacation, Kelly was in Thailand for a retreat. Hopefully next trip in either direction, Kelly and Bua will be able to meet.
Our second day was pretty much a travel day. We spent some time at Will's office, then grabbed a bus, and then train out to Little India. After a quick bite, and some conversation, we were off to bed.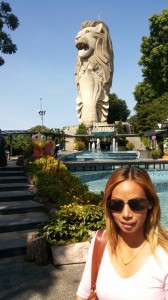 Our third day, we were off to see The Merlion. This was one of our primary trip goals, but at the time I didn't realize there are two Merlions. After breakfast, we walked to the train station with Will. He headed off to work, and I bought two Tourist Passes. Then we were off to find the Merlion.
We rode the train to the Harbourfront shopping mall, and then caught the monorail out to Sentosa Island. (the monorail is not included on the Tourist Pass public transit card.) Our first stop, the absolutely huge Merlion statue that looks out over the harbour. When I was buying monorail tickets, I also got Merlion tickets, and S.E.A. Aquarium tickets. While you can walk around and look at the Merlion for free, with the tickets you get a trip through a small blacklight illuminated display, and you also get to take the elevator up to the top of the Merlion's head. The view from on top of the Merlion is amazing, and I think well worth the ticket cost. You're just not going to get the same view of Sentosa or the harbour from anywhere else. You also get a chance to spend more money; when you're looking out the lion's mouth, you'll have a staff photographer take your picture. Once down in the lobby gift shop, you'll be offered the chance to buy souvenir keychains, magnets, and 8 x 10 copies of your Merlion experience. (And yes, we did buy the big touristy photo.)
After the Merlion we took a stroll downhill to the away side of Sentosa. I was looking for the aquarium, but my 50/50 direction sense was off. Still, it was a nice walk along the fountains and water features. At the base of the hill, we caught the monorail back to the first island stop, the correct stop to go off looking for the aquarium.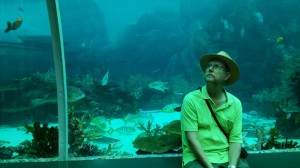 The S.E.A. Aquarium on Sentosa is fantastic. It's supposed to be the World Largest, according to Guinness. I can easily believe it. I thought the underwater tunnel at Pattaya's aquarium was nice, but it has nothing on Singapore's aquarium features. I could have easily spent the entire day, just at this one destination. Anyway, with the ticket, you get to go through a nautical history museum, along with the aquarium. Both are equally good, and worth the cost of admission.
Following the marine tour, we walked a bit around the shopping and restaurant mall. We were able to find a Thai place to stop and eat for a little taste of home. When traveling, exploring is good, but so it a bit of the familiar. Thai food away from Thailand seems to be about the same–you pay around $10 a plate for what would cost you $1 a plate back in Thailand. It was still worth it though. Our main diet was new to us Indian food, most of which we had no idea what it was called, and late lunches at Thai restaurants.
After most of the day at Sentosa, it was back on the monorail to the city, and then on the train to Chinatown. I had an idea about finding some sort of Thai area, and maybe Thai street food. We did get to People's Park, a huge several story block size market complex. And there was a mostly Asian food court in the basement, but it was primarily Chinese. Even so, it was more familiar than the Indian cuisine we'd been having for dinner. I thought about coming back for a dinner later, but we never did make it back there. Once we finished with the Chinese market, we hopped the train back to Little India to wait for Will to finish work. When Will got back to the apartment we headed out for what turned out to be our usual adventure into Indian foods. After we finished and got back to the apartment, it was time for coffee, a bit of conversation, and then off to bed.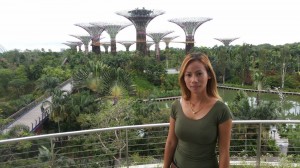 After breakfast on Day Four, it was off to find the other Merlion. We started the day with a long walk around Gardens by the Bay, a multi acre park alongside the harbour. I'm pretty sure if it's a plant that could grow in the Singapore climate, you could find it somewhere at Gardens by the Bay. It was a lush and beautiful walk. Finishing the walking tour of the greenery, we set off on a more urban walking tour to find the elusive (to us) Merlion fountain. Fairly quickly we were able to find the harbour inlet the fountain is on, but we happened to be directly across the water from it. Time for more of the urban walking tour. we decided to go right, which turned out to be a good thing. About two thirds of the way around, we were caught in a downpour. As fortune would have it, we were also across from another Thai restaurant, and we were hungry. Time for our daily, later in the day Thai lunch. about the time lunch was done, the rain was down to intermittent sprinkles. We took a short walk the rest of the way around the inlet to the Merlion fountain, which is like a scale model of the Sentosa Merlion when you've seen that. Just at a guess it seems to be about 1/10th scale, though it is the original, and the Sentosa Merlion is the copy. Also, the harbour Merlion sprouts water from it's mouth while the Sentosa Merlion sprouts radio antenna from it's head.
The next stop on getting the most from our visit, and from the transit pass, we were off for a long ride to the Chinese Gardens transit stop. The Chinese Gardens are a short walk away from the transit station, and are a free attraction. It's an easy walk, with historical Chinese statues, architecture, temples, and ornamental gardens. Once around the park and we were pretty much done. It was back to the train, back to Little India and the apartment, off with the shoes, and taking it easy until Will got back from work.
Day Five was a take it easy day. While there were still things that would have been nice to see, we had done a lot of walking the day before, and we were more than ready to take a easy day. So, not far from the apartment is Mufasa Market. (I think that's the right name.) It's multi-block, multi-floor, pretty much everything. We wandered around and did the little bit of shopping we wanted to do in Singapore. After the brief shopping spree, it was back to more rest and relaxation in Will and Kelly's apartment and our last night in Singapore.
Day Six was our travel day home. We got up early, and was at the train station waiting for it to open. This turned out to be another thing I'd do differently if I'd been to Singapore before. Using the trains, it would be simple to get to the airport, or get from the airport if you knew about them before hand. I didn't, so I booked our return flight too early in the day. We ended up taking a $20 cab back to the airport. While more expensive than the train, we did get there with plenty of time to go through Immigration and catch our flight back to Thailand.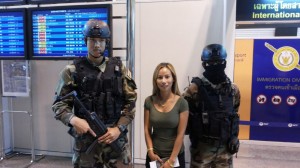 Flying into Bangkok, the latest coup had happened while we were in Singapore, so it was different seeing all the soldiers around. Like most people seemed to be doing at the airport, we took a moment to get a soldier photo-op. The coup before this one, I'd been back visiting the US, so this was my first Thai coup experience. I don't think Thai coups are like anywhere else in the world. Outside a few small areas of Bangkok, you'd never know they were happening, and I think most of the population appreciates the break from politics. European coups, African coups, Central/South American coups, keep me far away please. Thai coups, no worries.
Just around dinnertime we were back in Udon Thani. The car was just where we left it, in free airport parking. A couple of minutes drive and we were back home again, and looking forward to the next trip, wherever that will be.
The Flickr album of our trip is located here.
[tb_google_map]