We recently celebrated Loi Krathong at the Foundation. This festival is filled with food, and music, and dancing, and singing, and having a great time. The loi krathongs we had at the Foundation were made in the old fashioned way, a round from a banana tree, wrapped in banana leaves, with some flowers and incense sticks.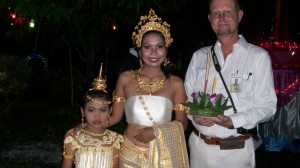 One of the teaching staff was wearing a traditional Thai costume, along with (I think) her daughter. The teacher is in another area, so I don't know her name, but she was kind enough to pose for a photograph with me.
After an early celebration at the Foundation, several friends and I went down to Beach Road and launched another Loi Krathong into the ocean. It ended up turning into a long night, and a ~lot~ of walking, but it was also a lot of fun.